Central English is specialised in English for specific purposes to training professionals for the work market. One of the areas we have naturally been developing in the last few years is in the area of English for Law. Initially, we started a standard International International Legal English course for lawyers and law students. However, more recently, the Brazilian government and legal organisations have requested courses adapted to the needs of law/lawyers in Brazil. Here are some of these organisations.
Examples of organisations we have been invited to work with:
1. Brazilian Supreme Court
Due to the work of the company Central English was contracted as a specialist to teach English to the civil servants of the Brazilian Supreme Court. Note as specialists a company needs to prove they have given courses that the government needs, with proof of material, receipts and other financial information required to fulfil a the requirements of a specialist contract.
2. Superior School of The Brazilian Law Organisation (OAB) (The Law Bar in Brazil)
The OAB has invited Central English to start the development of professional development courses for Lawyers in Brazil. This new partnership has already been fruitful with courses for English speaking and presentations for lawyers. Due this initial success, new courses are currently being designed to fit the different subjects and needs of lawyers in the country.
Already the new directorship, who are taking over for the next 4 years, have been in touch for our continued partnership in the next few years.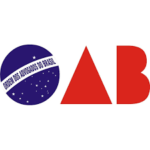 3. ESMPU: Escola Superiore do Minsiterio Publico
In 2018 the ESMPU requested course of English for the Federal Attorneys of Brazil.
As can be seen in the photos we successfully completed an intensive course for Federal Prosecutors selected from around Brazil. The was help at their school in Brasilia. Central English produced tailor-made material in the areas on Immigration, extradition and white collar crime and corruption to develop each attorney's English. Activities such a interviews and presentations so the course participants have more confidence in carrying out these tasks in English in the future.
These same themes were used for the online courses which start in January 2019. Over 180 federal prosecutors have applied for the 50 places on this course so we expect this course to be repeated later in the year.
4. IDP: Institute of Public Administration
Courses of Inglês Jurídico has already been taken up by IDP and new classes at graduation and post-graduation levels in February 2019. Once again Central English has been contracted to develop our material to help IDP's students obtain higher levels of English for them to obtain a better place in the professional marketplace.
5. Ibmec
The national business school 'Ibmec' are starting a partnership with Central English. Proposals were requestion for course in English in Business, law and taxation for their Brasilia branch. These are otional course for  their students with a view to making them permamant classes in their main suite of courses. Classes are due to start in March 2019